Hives
Midwest Allergy Sinus Asthma, SC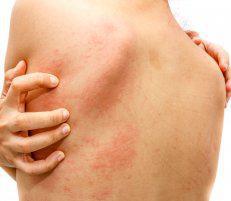 Hives are red, itchy or burning, bumpy or rashy, and invariably awful. If you're suffering from hives, find out what's causing them at Midwest Allergy Sinus Asthma, SC, with locations in Normal and Springfield, Illinois. Leaders in health care, the practice is passionate about tackling your case and improving your quality of life. If you're ready to make a change, call or use the online booking tool today.
Hives Q & A
What are hives?
Hives are welts, or wheals, that appear on the skin. Hives are often itchy and can range in size from the surface area of a pen cap to the circumference of a dinner plate.
There are a few different types of hives. These include:
Urticaria
Hives that appear only on the surface of your skin are known as urticaria. They may be acute or chronic.
Contact urticaria
Contact urticaria is a hive reaction that occurs as a result of direct contact with an allergen or irritant. Examples include chemicals, food, plant products, and animal products.
Angioedema
Welts that grow below the surface of the skin are called angioedema. Angioedema-type hives can also cause swelling of the eyelids or lips. A sign of an allergic reaction, this type of swelling is dangerous; if your eyelids or lips are swelling, seek emergency care.
Acute hives
Acute hives last in bouts of six weeks or less. Hives that last for 24 hours are often symptoms of an allergic reaction, but they can have other causes too, such as stress, exercise, illness, infection, sun exposure, cold exposure, or heat exposure.
Chronic idiopathic urticaria
Chronic urticaria is urticaria that lasts more than six weeks and is possibly accompanied by chronic itch. Chronic idiopathic urticaria is chronic urticaria with no known cause.
How can I find out what's causing my hives?
To find the source of your hives, Midwest Allergy Sinus Asthma begins by asking you about your symptoms and health history. They follow that up with a physical exam and possibly a series of tests, including:
Allergy testing (blood and/or skin-prick)

Blood work

Skin biopsy

Urine tests
They may also look for signs of autoimmune diseases, as idiopathic hives are sometimes simply the result of an overactive immune system.
What is the treatment for hives?
Depending on the cause, duration, symptoms, and severity of your hives, you can treat them in a number of different ways, including:
Antihistamines

Steroid creams

Xolair

®
Xolair is a medication that your Midwest Allergy Sinus Asthma provider injects under your skin to treat chronic idiopathic urticaria that hasn't responded to other medications. Note that this medication is only approved for use in patients ages 12 and up.
Are you done living with the pain and discomfort of hives? Find relief by booking an appointment at Midwest Allergy Sinus Asthma. Reach out online or over the phone today.