Real-World AR101 Market-Supporting Experience Study in Peanut-Allergic Children Ages 4 to 17 YearsThis is a multicenter, randomized, double-blind, placebo-controlled safety study of AR101 using the characterized oral desensitization immunotherapy (CODIT ™) regimen in peanut-allergic children.
Is Your Child Allergic to PEANUTS?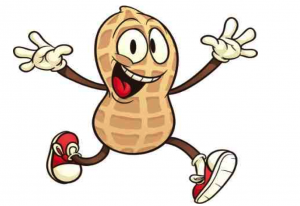 The study is testing an experimental medication that is being developed for treating people with peanut allergy and is intended to reduce the risk of severe allergic reactions in cases of accidental exposure.
Key Inclusion Criteria:
Age 4 to 17 years, inclusive
History of physician-diagnosed peanut allergy
Positive SPT for peanut and elevated psIgE
Written informed consent from the subject's parent/guardian
Written assent from the subject as appropriate (per local regulatory requirements)
Use of effective birth control by sexually active female subjects of childbearing potential
Key Exclusion Criteria:
Subjects in whom the clinical diagnosis of peanut allergy is uncertain
History of cardiovascular disease, including uncontrolled or inadequately controlled hypertension
History of severe or life-threatening episode of anaphylaxis or anaphylactic shock within 60 days of screening
History of eosinophilic esophagitis (EoE), other eosinophilic gastrointestinal disease, chronic, recurrent, or severe gastroesophageal reflux disease (GERD), symptoms of dysphagia or recurrent gastrointestinal symptoms of undiagnosed etiology
History of a mast cell disorder, including mastocytosis, urticaria pigmentosa, chronic idiopathic or chronic physical urticaria beyond simple dermatographism (e.g., cold urticaria, cholinergic urticaria), and hereditary or idiopathic angioedema
Any other condition that, in the opinion of the Investigator, precludes participation for reasons of safety
The study will last approximately 6 months although it could last up to 12 months with approximately 15 visits to the study clinic.
Study patients receive study-related medications, including 2 emergency epinephrine auto-injectors at no cost and may receive compensation for their time and travel.  
For more information, please call 309-452-0995 and ask to speak to a coordinator.